Stories
Kurashiki
Day 1
Another transfer day, we traveled from Shikoku to Honshu, the main island of Japan.
The bridges connecting these two islands are a marvel of engineering and the information center gave us a good idea of how they were constructed. The bridges hop over 6 small islands to finnaly arrive at Honshu.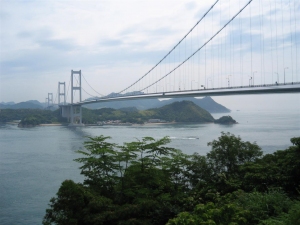 We stopped at the Seijoku tempel to enjoy the view and have lunch.
The walk to the look-out point was quite a climb but we made up for it with a curry menu at a small bistro.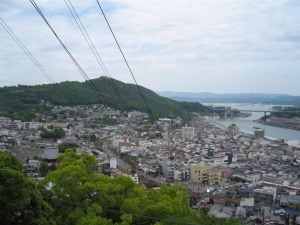 Next stop Tome no Ura, a small fishing village where we had some time to look around. We quickly learned that fishing wasn't all this village was famous for, they also did a little moon-shining on the side. Houmeishu is the local liquor based on rice and various herbs.
After we arrived at the hotel we went for dinner at a kaiten sushi, a sushi bar where the sushi pieces pass on a conveyor belt.
Beside the standard tuna and salmon they also had  hamburgers and hotdog wieners on rice.
 Day 2
We wake up early for the train to Soya to rent a bicycle and tour around the Kibi plains. The weather gods were smiling upon us and we had lots of sunshine while we rode between the ricefields where a lot of farmers were planting the rice. Along the way we stopped at an old burial tomb and a lovely pagoda. Around noon we rode back and took the train back to Kurashiki.
A quick lunch at Mcdonalds (McTeriyaki, local delicacy) and we were ready to explore the Bikan area of the city. This an old area of the town around the canals. Between the old wooden houses we saw a couple of newlyweds in traditional wedding kimono.
We did some shopping and visited the toy museum. Some tea and ice cream afterwards and we went back to the hotel.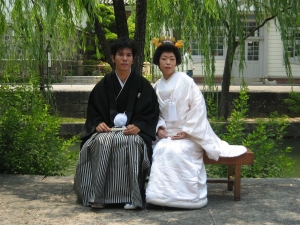 After freshing up we returned to the Kaiten Sushi place, now with some other people of our tour group in tow.
Map Location