Stories
Tokyo – Day 3
Today is a public holiday in Japan, which means that in a lot of places, there will be a lot more people.
We start our day early with a visit to Meiji shrine, 1 of the most famous in Tokyo. When you enter the park through 1 of the torii, you need another 10 minutes to walk to the temple. This way, there's a beautiful and calm piece of nature within the big city, which lets you escape the business and noise for a moment.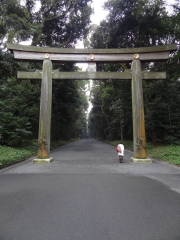 Arriving at the temple, we immediately notice more people than elsewhere because there are obviously extra festivities

planned for today.
There are also a lot of kids dressed in kimono, which is quite cute. Also the parents walk around in kimono (women) and suit (men). On the main court are a couple of temporary stalls showing things like ikebana and the food and drinks that are offered here. In the parking lot we see a lot of cars belonging to ambassadors, so it seems this is a really special event.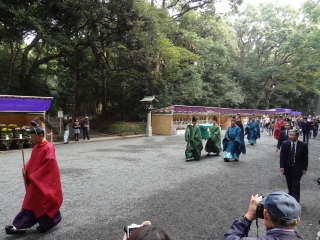 In the park there are some other activities like aikido, yabusame (archery from a horse

) and other sports. Around 11 o'clock it starts to get a lot busier here.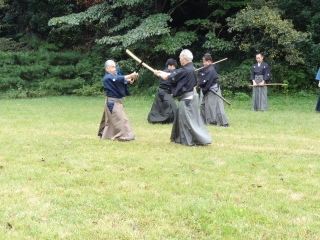 We continue to Harajuku, with its extravagant shops and busy streets. First we pass by a second hand store which also carrier kimono. Maaike finds a nice obi and hakama which hopefully will still fit in our luggage. After the shopping, we enjoy the well known (at least here) Tokyo crepe.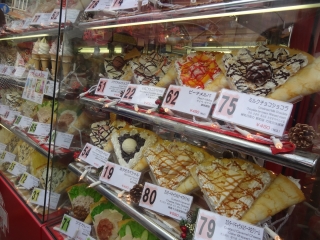 In the afternoon we go to the Sengakuji temple, where the 47 ronin are buried. There are some explanations here on the history and you can also find a museum here on the ronin, which we didn't visit.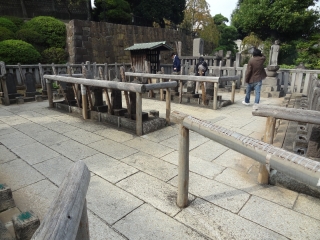 Our next stop is the Zojoji temple, which is the main temple of the Jodo sect of Buddhism. They have a beautiful lineup of decorated Jizo.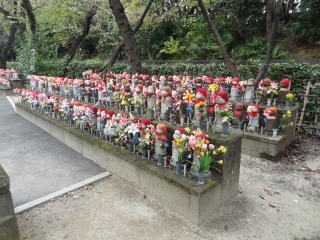 Then we visit the Sensoji temple, the one we were a bit late for on day 1. Because of the public holiday there are a lot more people here, so we are relieved we got some nice pictures earlier when the temple was lighted an more quiet. At least today we can get our goshuincho signed. Today there are a lot of stalls here with all kinds of tasty snacks like dango

, blue banana, etc…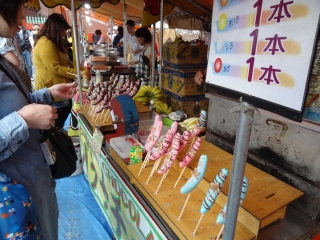 As evening activity, we decide to go to Roppongi where we stroll around a bit and end up in the Hard Rock Cafe for dinner. Hamburger

Japanese style, bon appetit.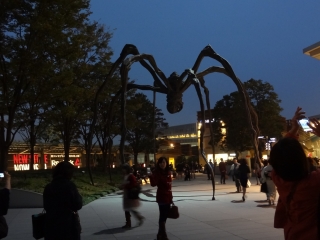 Extra pictures are posted on this page.
Map Location