Stories
Nikko
We leave from Tokyo and head towards Sendai but first we take a dag to explore Nikko. Nikko is famous for it's many temples and shrines and it's most famous one is the Toshogu shrine where you can find the mausoleum of Tokugawa Ieyasu.
Right next to the ryokan where we are staying are the Bake Jizo, or ghost Jizo

, people claim that every time you count these statues you get a different number, time to find out…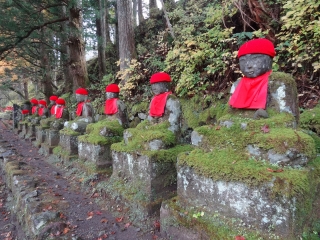 You walk right next to the river, quite wild water for Japanese standards
If anyone else wants to count the Jizo, we counted 87 (anything with a red bonnet or bib, even if it's just a rock)
Here in Nikko the autumn colours are getting close to climax, red and yellow among some green gives a wonderful landscape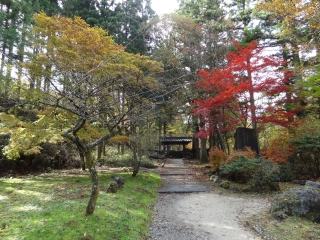 We make our way to Toghogu but we first stop at the Futurasan shrine, many children are running around here in kimono for their Shichi-Go-San celebrations.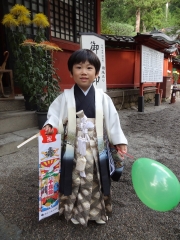 We aren't the first to arrive at Toshogu, it's really busy here and quite a queue at the register but this large complex of buildings, shrines and temples is certainly worth it. All buildings are gorgeously decorated with woodcarving, gold leave and paintings. I know cats are quite popular here but really everyone and their grandmother want a picture of the sleeping cat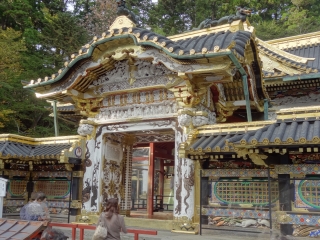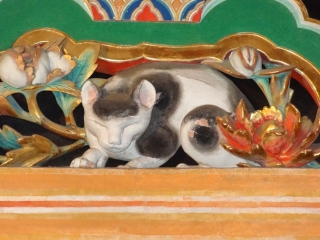 Unfortunately the large gate of Toshogu is currently being renovated. To prevent decay of their national treasures it is not unusual here in Japan that buildings are closed for maintenance, some of these span more then 10 years. Another reason to come back to Japan to see the finished result.
In one of the temples there is a huge painting of a crying dragon on the ceiling

, then entire room is constructed that a unique echo can be heard that is supposed to sound like a dragon crying.
Close to Toshogu is Rinnoji temple, the main building here is also being restored but it can be visited.
To end the day we have reservations at the Mihashi steak house where they have Toshigi wagyu beef on the menu. together with delicious forest mushrooms this provides for an amazing dinner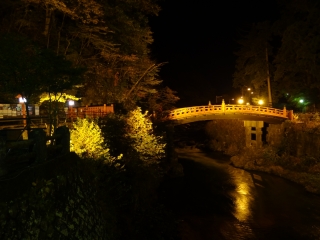 More pictures can be found here.
Map Location