Stories
Tokyo – Day 1
After another quiet night in the beautiful Hinoki room breakfast was waiting. The ryokan owner had told us in advance that today would be a western breakfast (just to get some variation) but this was western with a japanese lining. Ham and eggs were cooked at the table

, thick slices of fresh bread

fresh out of the toaster that was set up on the table, jam, cornflakes, homemade yogurt,… I was getting used to fish, rice and miso in the morning but this does make you a bit homesick.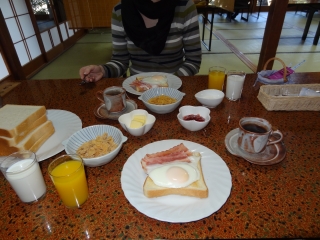 After such a hearty meal we are ready to set off to Tokyo, the owner waves us goodbye and right on time the bus

arrives to take us to the station. From Nagiso station we have to change trains in Nakatsugawa and then again at Nagoya. Here we have an hour before the bullet train for Tokyo arrives so we have time to reserve our seats. Most shinkansen trains have non-reserved seats but then chances are you can't sit together. Reservation is free and fast so why not.
We also pick up an ekiben

(bentobox sold in the station, for eating on the train) and off we go. A good 2 hours later we arrive in Tokyo. Our hotel is in the center of the town so we have to leave the train station and do the remainder by metro but we need some time to get organised. Metro and trains are not of the same company so they aren't on the same map and even by metro there isn't a direct line to our hotel so we have to mix and match the colors but once you get the hang of it it becomes more easy. Red line that direction, 4 stops then switch to orange line in that direction, 3 stops. All very simple actually.
Another pleasant sight, our big suitcase has been delivered by Takyubin nice on time from Kyoto in Tokyo. Our room is smaller than in the ryokans we have visited until now but it does have its own bath and bathroom. A quick rest and we start exploring the town. We do already have a goal today. I have a nice goshuincho (the temple stampbook) but that is Buddhist, we have mostly visited Buddhist temples but in Tokyo we want to go and see some more Shinto shrines. I need a Shinto goshuincho (I could put them in the same book but that isn't entirely respectful), as it happens, Tokyo has a shrine where they worship the maneki neko or lucky cat

. The goshuincho they sell there has 2 lucky cats on the cover so I really want that one for my Shinto collection.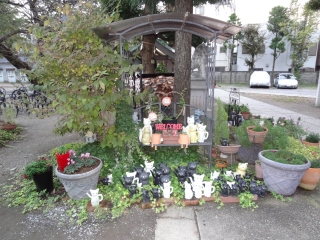 We take the metro and arrive in the Asakusu district on the east of town. We have to pick up the pace because the temples close at 5, but we arrive at quarter to 5 so we can still buy our stampbook including stamp.
We walk to the Buddhist Sensoji temple that is already closing, so for our stamp we have to come back another time but we do have a chance to take pictures from the buildings that have been lit up scenically.
The latest sight in Asakusa is the Tokyo skytree, the new highest building in Japan. We didn't go on it but from the riverbanks it's amazing to see.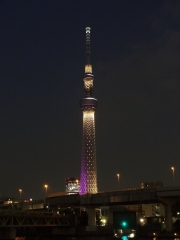 For dinner we stop at a Japanese curry restaurant

that is famed for it's spiciness scale from 0 to 10 (but you have to finish at least a level 5 before you are allowed to try higher). 1 and 2 are quite ok for us so we do not plan to break any records today.
More pictures at this page.
Map Location