Stories
Kōya-san – Day 1
Today we left from Osaka to a temple in Koyasan for a couple of nights.
Koyasan is a mountain village that can only be reached by a combination of train, cable car and bus. The cable car is a small train the goes up the side of the mountain at a 45° slope, that's pretty steep. But it does make you get up to 840m above sea level quite quickly, where the bus to the center of Koyasan is waiting.

It shows that their are a lot more tourists on the train to Koyasan then we saw in Osaka. The staff at the bus station is trained to help clueless tourists take the right stop for their temple lodging and we make it to our temple lodging Shohjohshin-in without a hitch. Even though it's only 1 'o clock we are checked in and shown to our room.
It's quite a big temple with lots of corridors and small hallways. But with the clear explanation of the friendly monks we felt at home quite quickly.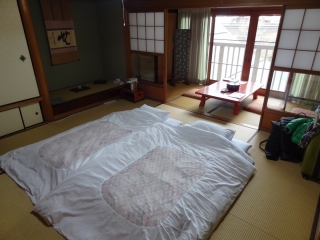 Enjoying a cup of green tea before going exploring is always a good idea.

We decide to walk all the way to Daimon, the main gate of Koyasan on the other end of the town. Along the way we notice most houses around here are still built in the old style which provides a very special setting. You walk past a lot of other temples in Koyasan but the center of the village has quite a few restaurants and shops. Just past the busy center is Danjo Garan a temple complex made by Kukai, the founder of Koyasan. In 2015 they celebrate the 1200th birthday of Koyasan.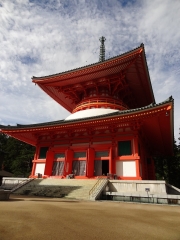 Kukai, or Kobo Daishi (as was his Buddhist name) is an important figure in the Shingon school of Buddhism and around town you can find a lot of information about his life around town.
At Danjo Garan we bought a Goshuin cho, this is a book which you can have stamped by a monk at many big temples. It's not just a stamp but a combination of calligraphy and a few stamps, each one specific to the temple you visit.
Eventually we reached Daimon, a beautiful wooden gate of 25 meter high and almost just as wide.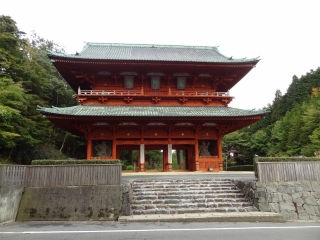 We went back to the temple on time because food is served at 17:30, Dinner consists of many small portions of vegetables and different kinds of tofu. All so delicious you don't even miss the meat and served in a beautiful setting. Afterwards a relaxing bath and then to the room to rest. The morning prayers are tomorrow at 7 so we better get some sleep.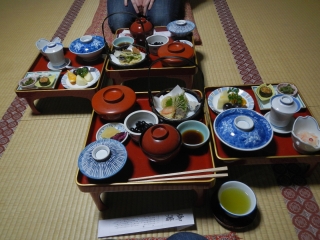 On the photo page You can find the pictures of Koyasan.
Map Location