Stories
Tokyo – Day 2
2nd November, I'm celebrating my birthday in Japan this year


No time to sleep in because we have tickets for the studio Ghibli museum, these must be reserved in advance and sell out weeks before. When we arrive at 9:30 in the Mitaka suburb of Tokyo there is already a queue at the entrance and the museum doesn't open till 10.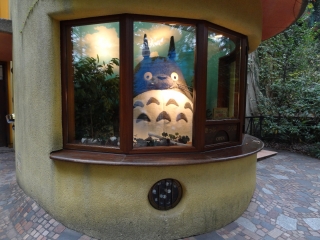 For the people who don't know studio Ghibli, this is the cartoon studio of Hayao Miyazaki, sometimes called the Japanese Walt Disney. I think this doesn't do him justice because the Ghibli movies have a deeper story and make people think a lot more then most Disney movies.
If you need any recommendations of Ghibli send me a mail or leave a message

In the museum you are not allowed to take pictures and actually that a good thing, this can't be experienced through a viewfinder. There are no set routes through out the museum and a lot of work has been put into details in the building itself. From brilliant stained glass windows, to the stairs and even the toilets have a homely feel to them. There is hardly any English text but since it is aimed for children everything is perfectly clear. You learn about animation, lenses, how an animated movie is created from concept art to coloring. Meanwhile you can see an exclusive cartoon and get lost between doors, hallways, stairs and corridors, a very magical experience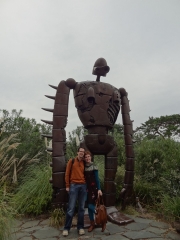 For lunch we visit the restaurant of the museum itself, everything is also very warm and homely decorated and it feels like you are sitting in the Provençe. Omelet and rice (shaped like a hat and with ketchup decorations) for me, fish-soup for Ben and because it's my birthday only once a year Strawberry shortcake

We take the bus back to the station and from there on the train to Shinjuku, one mega-mall is placed here next to the other and I'm looking forward to pick my birthday present, a kimono

of course.
In Japan there are still a few designers that make modern style kimono and after some doubting I pick a red white and blue design with air balloons. The shopkeeper speaks a little English and is amazed and enthusiastic that we have people in Belgium and the Netherlands who like to wear kimono.
We look around some more shops and then return to the hotel to put away our purchases and freshen up before dinner. Tozai travel made reservations for us at Tofuya Ukai, a restaurant at the foot of Tokyo tower

but inside an old sake brewery. a building 200 years old that was reconstructed right here.
We are well on time and get a tour around the garden and buildings. Each table gets an individual room where you can relax and enjoy the view into the traditional garden. Not one room look towards Tokyo Tower and you soon forget you are in a metropolitan city.
The menu are different kinds of dishes with a combination of fish and tofu. Peanut tofu, grilled Tofu, tofu simmered in soy milk. It might sound all the same but each has it's distinct taste and texture, even compared with the Tofu we had in Koyasan and Kyoto there aren't many similarities.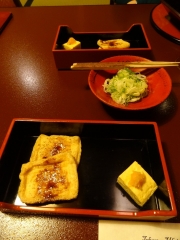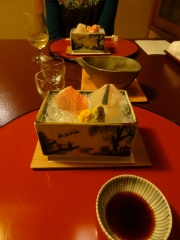 Another culinary experience and another year behind my belt, it's time to get back to the hotel and relax for our next free day in Tokyo.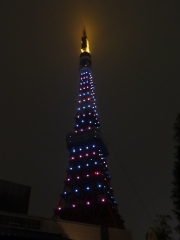 You can find more photos on this page.
Map Location