Stories
Kyoto – Day 1 and 2
Around noon, we arrived at Kyoto station. We didn't have much time to spend here as we arranged to go to a kimono meeting in Gion corner. This is a kind of cultural meeting center where they have exhibitions on various Japanese arts, flower arranging

, kimono

, Japanese dance. Today however, one of the buildings was freely accessible, with the option to rent a kimono, but we were carrying our own materials. Normally it takes us about half an hour to dress ourselves, but here, some skilled older ladies got us dressed in 5 minutes.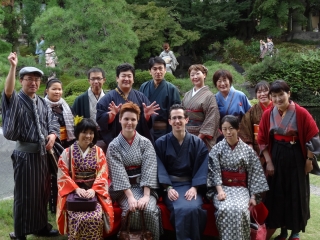 Never have we seen so many people in kimono together. There were different workshops here, make little decorative key chains, making jewelry with beads, they were doing color analysis / matching and even predicting the future using tarot cards. They also had information on different kinds of thee, coffee and sake

.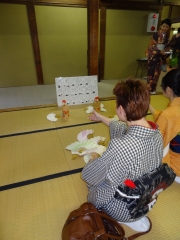 Eventually, we left, because we still had to check in in our hotel. Yuhara ryokan is placed in a quiet neighborhood with a little stream running in front. It's easy to forget you're in a big metropolis here. The host gave us a clear explanation and some city maps of all the attractions in town.
Again, we had to leave quickly because we had planned to go to another kimono meetup at Kyoto station. The station of Kyoto contains a huge staircase from which each step has a strip of lights. For specials events, these are used to show a spectacular light show. For this time of year, it is of course Halloween themed.


Also the kimono people were wearing were quite spooky, pumpkins, bats, spiders, skulls

,… the station and the clothes were completely themed.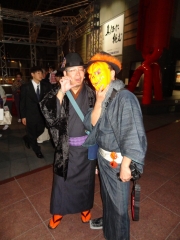 The next morning we had our first completely unplanned day in Kyoto. We started with going to the coin laundry, while the machines was doing it's thing, we went looking for breakfast. When done, we dropped off the clean laundry and walked over to the station to grab a train to Arashiyama.


This is a quiet suburb of Kyoto known for it's bamboo forests

, bridge and many temples.
While most other tourists on the train go directly to the south exit of the station to visit the famous bridge, we take the north exit, and are almost left alone. After a 15 minute walk, we arrive at the Daikaku ji temple. This is a former villa of the shogun which is transformed into a temple. This temple is actively being used en during our walk around the different rooms, we see praying monks passing by.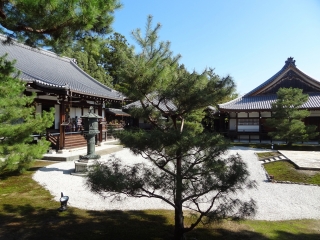 We bought a combination ticket for the Daikaku ji which allows us to also visit the Giojo temple on the other side of town. With the weather being good, it is a pleasant walk passing rice fields

and a few houses. Where Daikaku ji is a very big and open temple, the Giojo temple is a lot smaller and covered by the trees. The shadow from the forest gives the moss garden a very scenic feel.
The yama in Arashiyama stands for mountain, which we notice when we walk to the next temples, were we have a lot of steep roads

. Our target is the Otagi nenbutsu ji temple but first we walk by the Adashino nenbutsu ji. In the 9th century, they placed a lot of grave markers here and since that time, more and more were added. It's a bit weird to see the transition from the stones that are completely worn by nature next to the modern polished versions.
Another 10 minutes of walking brings us to Otagi nenbutsu ji, this temple isn't mentioned in the travel brochures and often it's not even on the tourist maps of the area. We stumbled onto it googling for other things. The temple isn't as old as others in this area, because it's been destroyed several times and they also moved it to another location. In the 80s and 90s the local believers made 1200 stone statues of rakan (followers of Buddha) each with a different pose, facial expression or even attributes.
We see some rakan who are praying, holding children (a lot of them), holding cats, dogs, but here and there are some noticeable ones portraying a boxer, tennis player, sake lovers, even super mario is lurking somewhere.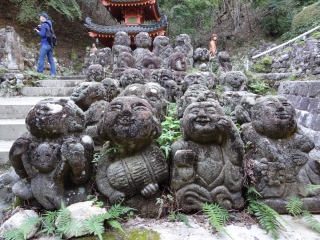 We are now in the northern part of the district and pretty far off the beaten path, next we go to the other side, which is more touristy. We walk to the south part to see the famous Togetsukyo bridge and it suddenly becomes a lot busier in the streets. Lots of souvenir stores and rickshaw that want to drive you around to show all the known sites. It's kind of fun to see that the rickshaw drivers don't speak English very well and rather go for the Japanese tourists who are being stopped at every street corner and invited for a tour.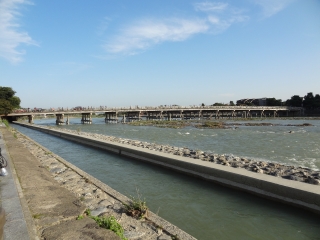 We have a little stroll through the famous bamboo forest, which is impressive, but also very busy (tip: Adashino nenbutsu ji also has a bamboo forest, you have to pay a little fee for entering, but it's a lot more quiet and you can take beautiful pictures without some 15 other tourists in it).
With swollen feet from all the walking we went back to the station to see a bit of the shopping mall. A must go for tourists is off course Kyoto tower, which we visited by nightfall so we could enjoy the romantic view of all the lights from the city.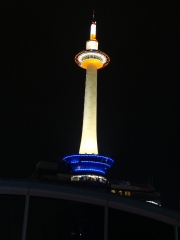 More pictures are available here.
Map Location