Stories
Osaka – Day 1
Exhausting, packing is quite an ordeal, the thin line between packing too much and packing too little, not sleeping afterwards caused by the excitement and then on top of all that, a jet-lag. The timezone difference with Belgium is 7 hours and because the flight took us about 10 hours we missed a whole night. 
We left Schiphol, the airport in Amsterdam, at 2:30 PM en arrived at Osaka airport 8 AM local time. First, we had to arrange some administrative matters, at the post office in the airport we had to pick up our wifi dongle and afterwards we had to exchange our vouchers for a Japan rail pass.
With the rail pass ready we immediately took the train from the airport to Osaka city. Once arrived, we were able to drop of the luggage at the minshuku. Luckily, they gave us a clear map of the area, because it's in a very small alley, but it's close to the station, so we didn't have to walk around for a long time.
We still had 4 more hours to go before we were allowed to check in so we decided to walk around a bit. To start off, we visited Tennoji shrine, a big temple not far from the minshuku. Without any English information, the temple as such was not really interesting, but something that was, was the flea market on the temple grounds. They sold pottery, glassware, clothes, food, kimono (!!)

 , they had everything.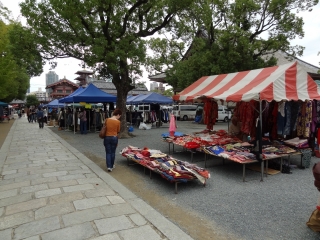 Lunchtime, our first lunch in Japan, and what better to start of with than a Osaka specialty, okonomiyaki, a kind of savory pancake where you decide on what goes in. An important rule to go by which always seems to hold up, find yourself a restaurant where the locals eat and you have found a good one.
Then we walked to the Shinsekai area, they have a lot of restaurant here, some pachinko parlours

, all packed together under what looks like a Japanese copy of the Eiffel tower, the Tsutenkaku Tower. For a lot of Japanese people this area has a nostalgic feel to it because the ornaments have this pre war feel to it, but on the other hand a lot of people think this place is less safe than others. We have to admit that poverty and unemployment are more visible here than other places we have visited before in Japan, but that might also be because we never payed that much attention to it. Anyway, it still feels safer here than some areas in Brussels.
Still about an hour to go before our room is ready and we are both exhausted, but there is one thing you always can find that little bit of extra energy for, shopping. Around the station near the hotel, there are some shopping malls, from which we chose one with 10 floors. No known brand in sight here, fuzzy wool and (fake) fur seem to be the thing to wear for this years fall fashion in Japan. Maaike had to hold back a lot when we saw a kimono store :love:. It's rather funny that the things we have to browse the whole internet for, are just for sale on flea markets and regular shopping mall stores (without expensive shipping).
We didn't spend any money yet on shopping here and took a little rest in the room. As you can notice, our wifi dongle works (we'll write a separate review on this later) and eventually around 6 PM we went out again for a late walk. Japan doesn't have a daylight savings time and thus at this hour in October it's dark already.
We used the Japan Railpass to take the train to the Shinsekai area and take some picture of the Tsutenkaku tower by night.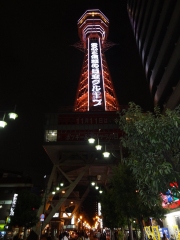 Around dinner time, this area look a bit like the rue de boucher in Japan, everybody wants you to eat at their restaurant. (luckily, not everyone wants a foreigner, only the ones with an English menu). After our big lunch, we didn't feel very hungry for dinner, so we just took some Takoyaki to our minshuku and a box of hello kitty halloween donuts.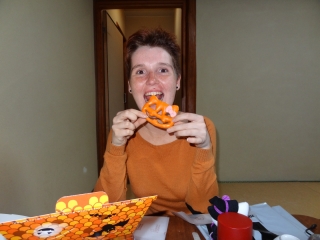 All that's left now is to take a relaxing bath and we can have a good night rest.
You can find some pictures on this page
Map Location