Stories
Ready to go
After 6 long years it's finally time for out next japan trip


With our previous group tour we already saw and experienced many famous cities and sights in Japan, so it became harder for us to find another trip that was completely new to us. An individual, self-made tour was the prefect solution.
Using the culinary tour from Tozai.nl we set up our personal tour. We added towns, removed cities, flipped over the route but of course kept the special restaurants from the basic tour




This Dutch travel agency is specialized in Japan and China and helped us above and beyond to compose our dream holiday.
Our flights are by KLM so we leave from Schiphol (Amsterdam) instead of Brussels Airport. Within Japan, a Japan Rail pass has been arranged for us, this is a 21 day pass, only available for tourists, which allows us to use all trains (with the exception of certain shinkansen trains) from the Japan Rail (JR) network
Transfers between cities that aren't covered by the JR network are reserved by Tozai and those tickets will be waiting for us at our first hotel. Within the cities we have to take care of our own transportation but with a network like Japan has (and a few handy smartphone apps) this seems do-able.
Alright so that's HOW we'll travel now WHERE we are going: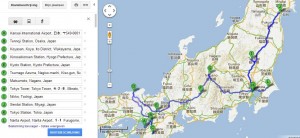 We start out in Osaka, a very "western" city full of neon lights and hotspot for tasty food. We can stuff ourselves for 2 nights here.
Next stop is a lot more serene, Koya-san, a small mountain village and center of Shingon – Buddhism, another 2 night stay to sooth the mind.
We go all across Japan for Kinosaki-onsen, a hot spring town well known among the japanese tourists, time to unwind, unfortunately only for 1 night.
Kyoto is the next stop, Kyoto the old capital of Japan, with many classic temples and palaces, 3 nights to visit those.
We leave the cities and go back to the quiet life, with train and bus we go to one of the best preserved villages from the days of the samurai to walk the old post route. 2 nights back to the past in Tsumago
Tokyo is next on the list, a huge metropolis with many sights and sounds, we start of 2 nights here…
and then head out to Nikko for 1 night, here up in the maintains we go to visit the old temples and spectacular views of nature
We head further up north to Sendai, more quiet then Tokyo but still an important city in Japan. Another 2 night stay.
Tokyo part 2, we go back another 2 nights to celebrate the end of a spectacular journey
As we write it down like this it really is a huge adventure, we'll probably come back more tired then when we left, but I'm sure the culture shock is going to give us a great boost.