Stories
Tokyo
Day 1
Today was a transferday from Kyoto to Tokyo.
We chose to zoom through the landscape with the Shinkansen

, this was a lot faster that riding the bus. (2.5 hours versus 6 hours)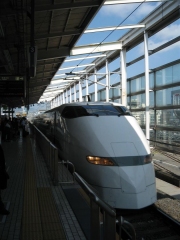 Arriving in Tokyo, we passed by the Tourist Information to grab some maps and other information of the neighborhood.
Afterwards we took the metro to Akihabara, which is a huge shopping area. We went to a huge electronics store

 which had 7 floors with different things.
Around 4 o'clock we arranged to meet at the hotel because our luggage was on the 6 hour bus ride and it was arriving at that time.
By group, we had a nice city tour

 to explore the region.
After the tour we visited a beercafe specialized in Belgian beers

. The owner was japanese, but he worked a couple of years in Belgium and so he learned to appreciate and love the taste of good beer.
To finish the day, we went for a nice dinner. It was a restaurant where they had all

 different

 kinds of food, like tapas, but japanese style.
Day 2
Guided city tour today.
We had breakfast in a small restaurant in the vicinity of the hotel.
Here we used the phone to try and make reservations for the highway bus which will take us to Fuji-Q Highland, the amusement park we want to visit friday.
From the restaurant, we left for Shinjuku using the metro

. Walking around here, we visited city hall to go up to the 45th floor. This building is one of the biggest buildings in Japan, which allows for a beautiful view on Tokyo city.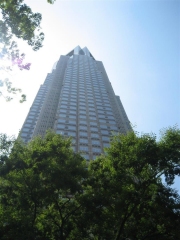 Afterwards, we took the train to Harajuku. There are a lot of extravagant stores and some people even run around dressed up around here.
Continuing to the busiest road crossing at Shibuya. It looks like a big mess of people just crossing everywhere, but all in all it's quite organized.
At Shibuya station there is the famous statue of the dog Hachiko who waited for his owner to come back from work up to 7 years after the owner passed away.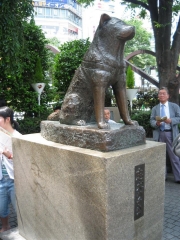 On a corner of this crossing there was a Starbucks where we had a nice view on the busy crossing from the second floor.
Then we walked to the imperial palace. You can't go near, for security reasons, but you still have a nice view from afar.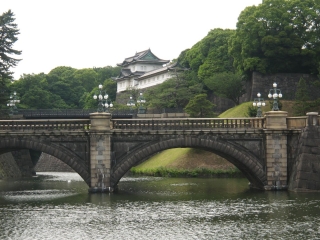 Following the palace, we went to visit the International Forum, a futuristic building near Tokyo station.
For lunch, we had some very good yakitori in a small restaurant in the station.
To finish the day we went to the Kabuki theater

. We got a headset with english audio which made it a bit easier to understand the play.
In our hotel we used the onsen to unwind a little bit before going to bed.
Day 3
Today we had to get up very early (4 AM), not to go home, but to take the 5 AM metro to the fishmarket

.
Here we were able to witness how many people are here to buy and sell tuna by bidding.
These are huge frozen of around 2 meter.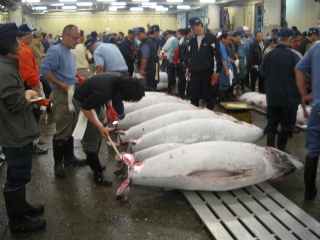 More than tuna alone, they also sell about any other kind of fish in small stalls. (who are actually preparing today's catch)
It's quite busy here with little carts driving around. The driver has to stand up the whole time and it looks a bit like a kick scooter with a flatbed attached to it.
Seeing all this fish made us hungry, so for breakfast we had sushi :).
Using the metro we went to a sumo training centre. We were lucky enough to be able to witness an actual training session of these giants.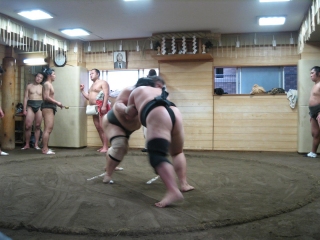 After the training, everybody went their own way. We took the metro to Shinjuku to get our bus tickets for tomorrow.
Then we went to Shibaya where I'm currently typing this on a pc.
The internet cafe here is a bit different from what we know. There a separate stall with a sofa, tv and pc.
You can order food and there are free drinks.
Today, we still want to visit Akihabara to shop and enjoy the busy city.
In Akihabara we shopped for some time and again, we visited a kaiten sushi place

.
Day 4
Today we got up early to go to Fuji-Q.
See Fuji-Q Highland.
After coming back from the amusement park, we went for a last dinner with the whole group. Me and Maaike had Shabu Shabu again.
All that's left is pack our bags and we are ready to leave tomorrow.
Map Location